Weddings Are Different, We Must Be Different.
July 28, 2020
Why We're Saying "No" to Weddings in a Pandemic.
5 years ago, in 2015, Flowers for Dreams launched weddings.
We had no idea what we were doing at the time. And we had no idea how big they would become. For the previous 3 years, starting in 2012, our business was much simpler: beautiful $35 bouquets for daily delivery across Chicago. One price point and 1/4 of our profits to a variety of rotating charities. The model was simple, charitable, and easy to understand: that's what people loved.
The concept got big fast & we were drawn to weddings.
Every one of our 20-something peers was on the cusp of an engagement, or a wedding, and they turned to us. While more complex, it was a phenomenal business opportunity and our wedding service took off like wildfire. After dozens of features, local celebrity weddings, hiring an amazing & experienced team, and creating an innovative new wedding technology, last year in 2019, we did nearly 800 weddings across three states. In one season! Incredible. Somehow, with that volume, we didn't lose a beat. Our reviews were 5-star everywhere and we were named 3-time Best of Weddings on the Knot.
Then COVID-19 hit.
Like most industries, weddings ground to a halt. It was clear any business relying on social gatherings would be in for a long & difficult year. Our staff & costs had grown very large very fast, so to survive it, we had to make the most difficult decision: reduce a portion of our team. After that very challenging & emotional change, we resolved to scratch & claw for every opportunity we could find to keep our remaining team intact. We were told that any wedding client that was proceeding, we must say "yes" to keep people working. Any event that a venue permitted, we had to jump at to stay in business. Do our best to distance, of course, but never say no to these rare revenue opportunities. Your business' future depends on it.
So we obliged. In June and into July, as brides and grooms scrambled to proceed with their nuptials, putting the pandemic aside but keeping flowers in the mix, we started doing "micro-weddings". Intimate events, with smaller guest counts, at ad-hoc venues and vendors in close contact. Many went smoothly, but regrettably, some ended up not as compliant as we'd like. At those, we hoped for someone else to put a foot down: the venue, a planner, another vendor. Everyone, it seemed, was waiting for the other to step in. Each of us uncertain how to say "no", or unwilling to say "no" to our adoring clients.
With confusing industry guidance & constantly changing goal posts from public health officials, it became clear us vendors were being asked to police our own clients. To enforce & regulate public health actions. It was a recipe for failure.
We decided we needed to take this into our own hands.
We couldn't be dragged into a "super-spreading" event or watch one of our employees test positive, with too nice and flexible policies skirted by others. We've been lucky & cautious so far but we needed to be a forceful leader for those who look to us. So the last three weeks, we deliberated as an executive team, then with our entire team, inviting many suggestions on how we could evolve our COVID-19 policy to set the highest safety standard in the industry without stopping 2020 events altogether. We exhausted what we felt was every reasonable option to balance the two and came to only one conclusion:
Traditional weddings are incompatible with this pandemic.
We cannot do them while ensuring the health & safety of our team. If we wanted to walk the walk as a good corporate citizen, own our leadership role as among the first B Corporations in the wedding industry nationally, as a social enterprise leader locally, and as a brand that truly believes in people over profit, we had to take a stand.
So today, we announce respectfully to all prospective brides and grooms that we will not do any more 2020 weddings unless they fit into a very simple, safe box with uncompromising social distancing measures.
No indoor setups at weddings exceeding initial state limits
No customers inside our studios for samples or consultations
Contact-less delivery in all cases, no transfers or same-day strikes
These are just some of the rules we hope our vendor peers will embrace & build upon. We've posted the rest below, and welcome any of our partners or related businesses to download & share freely with or without attribution. Until the COVID-19 pandemic is over, and regardless of any state's re-opening ambitions, this will be our stand. When push comes to shove, we must put our community's health & well-being over our own financial interests or any one client's wishes.
Of course, saying no to such a large chunk of revenue the next 6 months will be enormously difficult for our business. Saying no to clients who booked as far back as 2018 & are dead-set on proceeding anyway may hurt our reputation or reviews. We can only hope this bold, safety-first position will be redeemed by our most compassionate clients, our many conscious customers, and all those who share our values that have gotten Flowers for Dreams this far.
We are appreciative of any other ways you're able to support us in the meantime. They will go a long way until traditional weddings resume again better, safer, and more beautiful than ever.
Contact-less flower delivery or pickup in Chicago, Milwaukee & Detroit
Virtual plant, floral, or terrarium workshops for your company, friends, a bridal party, or yourself from home
A visit to our flower truck and outdoor sidewalk sales with kindness & a mask
Thank you for your support & understanding. Please stay safe.
Steven Dyme
Co-Founder & CEO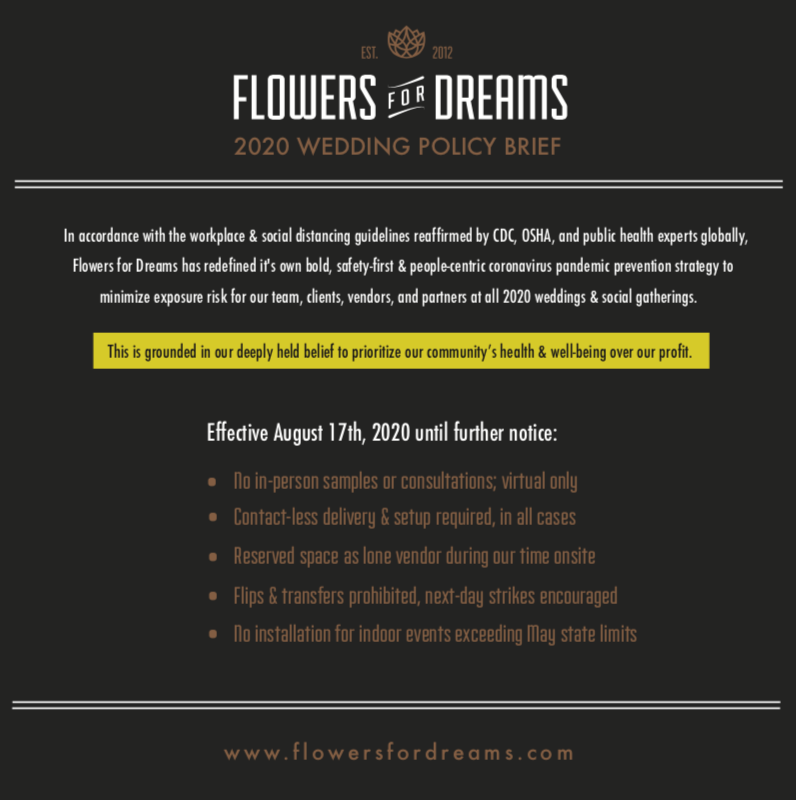 https://www.dropbox.com/s/6q11v0fyujx52bs/2020%20Wedding-Event%20Policy%20Image.pdf?dl=0