Promoting Social and Emotional Learning through Sports
January 9, 2019
This is a community impact story titled "Building Champions Program helping Chicago's youth" from December 4, 2018 written for the chicagoblackhawks.com by Fred Mitchell.
Blackhawks players are veritable examples of what it takes to overcome adversity and challenges in life.
And that has been their explicit message during a six-week after-school program at MB Ice Arena. The Chicago Blackhawks Foundation's (CBF) Building Champions Program promotes social and emotional learning through sports. The first five weeks, students learn about key life lessons gained from being a member of a team through group discussions and physical activities. During Week 6, students celebrate the completion of their program by skating on the ice.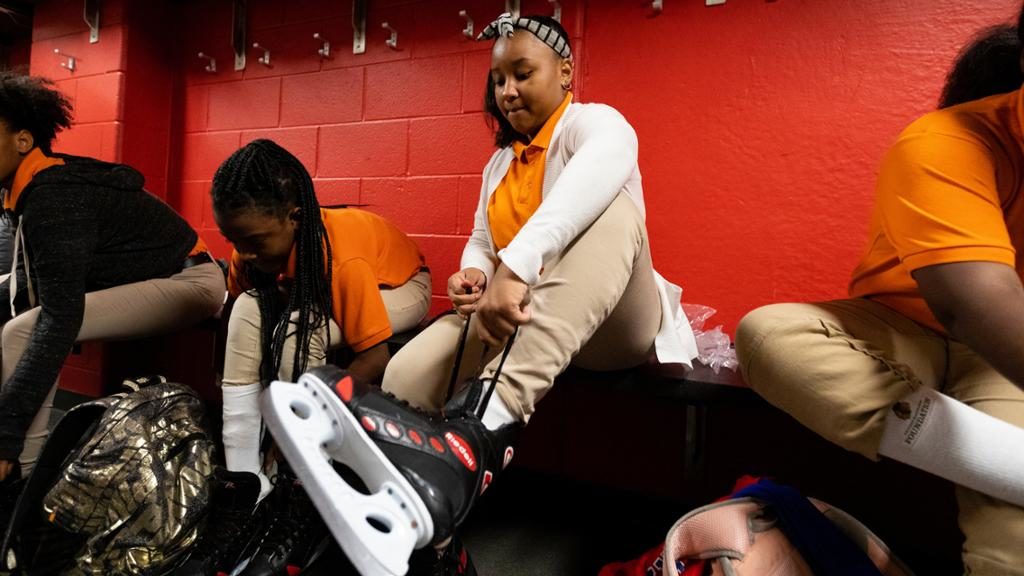 Veteran Blackhawks defenseman Duncan Keith recently provided a sincere video message to youngsters participating in the program.
"I just want to let you guys know that perseverance is the ability and self-control that pushes you to work through your challenges," Keith said. "Having perseverance means when you are facing a challenge, use your mind and your body to overcome it.
"In hockey, perseverance is getting up after getting knocked down, being resilient and coming back stronger after losing a game. I remember we were in Game (4) of the Western Conference Finals (in 2010) playing the San Jose Sharks. I got a puck right in the face that knocked 10 of my teeth out. It was painful, but I knew I could get through that. I wanted to win the game. I didn't want to go back to San Jose and play a game back there. So I was able to finish the game and deal with the pain later. Sometimes in life, you have got to take a little pain and fight through that. And there is a good thing at the end of the tunnel after you do that."
The after-school program curriculum was developed by CBF along with BUILD Chicago (a CBF grantee). BUILD Chicago works with youth who are considered at-risk and likely to become victims or perpetrators of violence.
The life skills covered during the program include leadership, decision-making, perseverance, respect, and teamwork.
Tovah McCord, Blackhawks Foundation Director, is pleased with the progress, outreach, and impact of the after-school initiative.
"The program started in September; we have had a really great response," McCord said. "The kids are having so much fun and we hear from their chaperones that they look forward to their day of the week when they come to MB Ice Arena. They look forward to it and attendance is pretty high for our program. It's nice that it is getting a lot of positive responses.
"This program is six weeks and we have four six-week cycles throughout the season during the school year. And Week 6 is on the ice. So they actually get to skate. And every time we do this we have kids skating for the first time. We work through non-profit organizations, so we are reaching a lot of (Chicago Public School) kids."
The program manages to emphasize critical life lessons while also providing an opportunity for youngsters to have fun.
"We are very intentional about that because we knew these life lessons were pretty important but we also wanted to make it kid-friendly," McCord said. "So we developed a curriculum and continue to refine it to make it fun and engaging, but also to make sure there is some learning behind it as well."
The Blackhawks provide transportation for groups to and from MB Community Ice Arena, snacks, socks for skating, curriculum development, facilitator training and instruction, ice rental, ice skates and on-ice staff time.
Each lesson begins in the classroom with a short film clip featuring a Blackhawks player who shares his personal experience as it relates to the life skill being covered. After a check-in and icebreaker, the main discussion starts before the group moves into the gym for the activity. Following the physical activity, students then gather for a reflection on the learning for the day.
The initial list of participating nonprofit organizations includes current CBF grantees such as BUILD Chicago, Girl Scouts, Near Westside Community Development Corporation, Erie House and Girls in the Game. The Blackhawks are continuing to target other nonprofits.
The state-of-the-art MB Community Ice Arena makes the execution of the after-school program more feasible.
"It makes all the difference; it is so unique," McCord said. "Right now they are in the place where professional hockey players train off the ice. They know they are in an area (gymnasium) where a lot of people can't come to. Security lets them in every day. It makes the kids feel special, and that's important. It makes them feel valued. It makes them feel that people are taking the time to care about their experience."
---
Every Flowers for Dreams bouquet benefits our January charity for Chicago, the Chicago Blackhawks Foundation.