Behind The Scenes: Wedding Shoot Edition
March 17, 2022
Are wedding shoots as fun as they look? Our answer is yes! Our Detroit Wedding Designers, Lilly Arsenault and Betty Buynak can speak to it first hand. With the help of wedding planner, Ryan Abney, the "Modern Elegance" photo shoot was created. Firstly, we wanted to take you on a behind the scenes look of everything that goes into these beautifully and artistically crafted shoots. Secondly, we wanted to show you some sneak peak images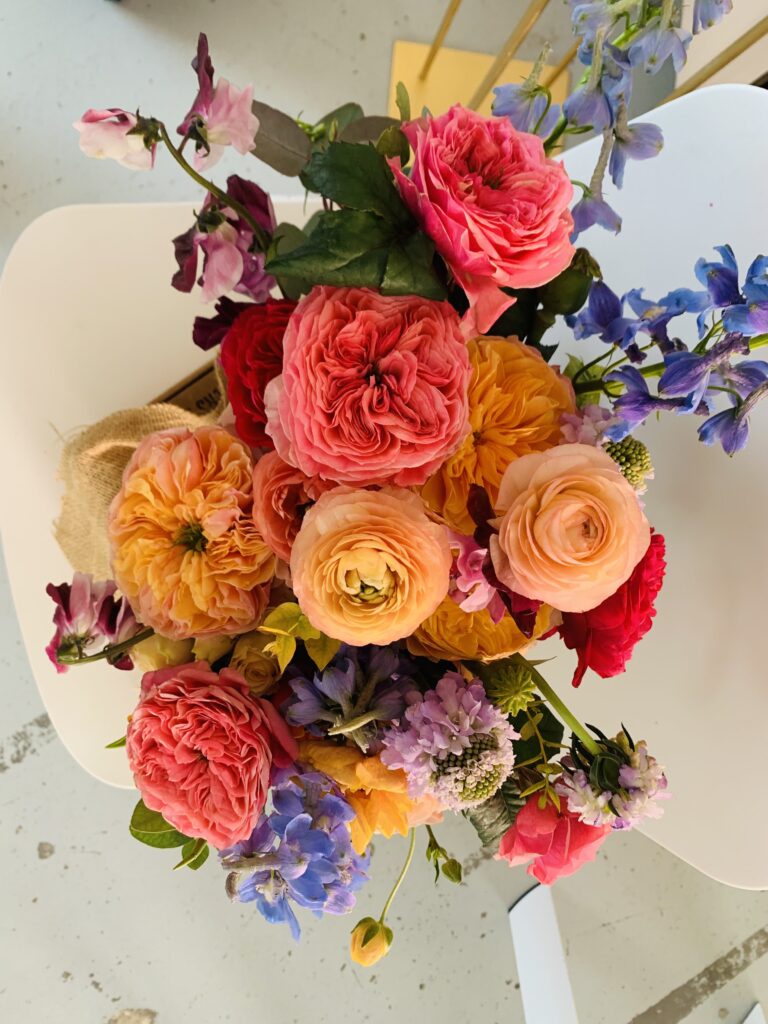 1. What is the hardest part of doing a wedding shoot?
Betty – Things can change SO quickly on set. So whatever was previously planned usually isn't how it goes. You always have to bring extras. Extra blooms, extra vases, extra everything. That way if one element is shifted, you can shift with it. That – and the timeline goes much faster than, say, an event timeline because it's a mock wedding, the ceremony is over in 10 minutes and you're still working on the table setup. You're essentially jumping from spot to spot based on the order of the shoot.
Lilly – Designing the concept of the shoot along with the event designer, and finding harmony between our two visions. For this shoot, the theme really centered around a contemporary approach to Spring, using classic pastels, but introducing a lot of bright citrus tones for a bolder effect. Above all, we wanted a lot of movement and dimension in the flowers, which along with the color scheme, really contributes to the contemporary feel of the shoot.
2. What are the easiest flowers to work with?
Betty – Oooh good question. I like your basic rose for a shoot because you can really abuse it and play with it throughout the day without it getting totally wrecked. Petals can be reflexed or removed as needed. Color really ends up being key – and anything with natural movement that has effortless beauty is best. You can place a long stemmed ranunculus all on its own and it can steal the show.
Lilly – Similarly, Carnations, roses, and really any tropicals: anthuriums, protea, orchids. Tropicals are extremely sturdy, and do not wilt quickly. However, photoshoots are the ideal opportunity to use some of the more finicky flowers, as we are onsite, and able to observe how the flowers are holding up the whole time.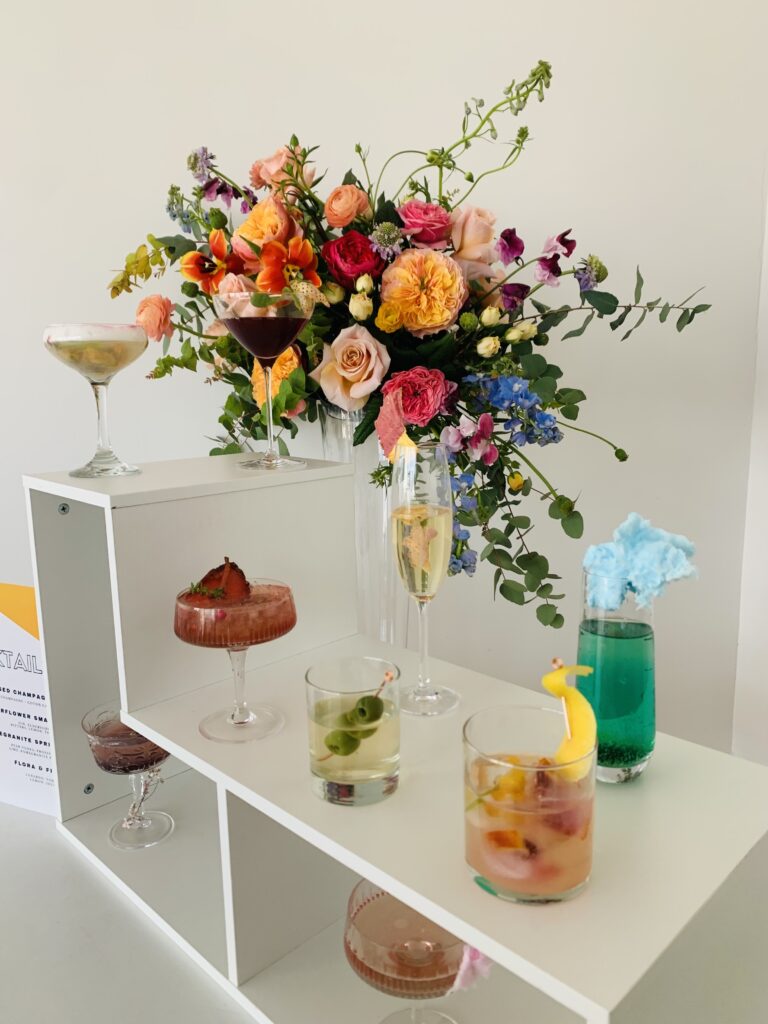 3. How long did it take to set up everything for the shoot?
Lilly – Planning the photoshoot with the event planner took about a week of back and forth, with two consultations to discuss.
Betty– I think from start to finish the shoot was from 11am – 3pm. You're not really finished even after setting up, you kind of have to redistribute and move things around and use certain florals from the shoot in other areas. For example, I was pulling extra blooms and redesigning the large florals for the grazing table because it was the last thing being shot.
4. Why did Flowers For Dreams put on this shoot?
To clarify, It was a big collaboration between very talented people who put everything together. The purpose is to showcase new contemporary design, from the table scape, to the attire to the flowers. This feature will be published in Summer magazines and blogs.
5. Did you enjoy any of the food or drinks afterwards?
Betty and Lilly – Yes!! Cloud Nine Bartending (@cloudninebartending) made us some cocktails after it was over and they were totally next level. Also, Cat from Thyme & Honey (@_thymeandhoney_) made the grazing table that we got to taste and take home after the shoot. It was hard to actually eat from the spread because it looked so beautiful.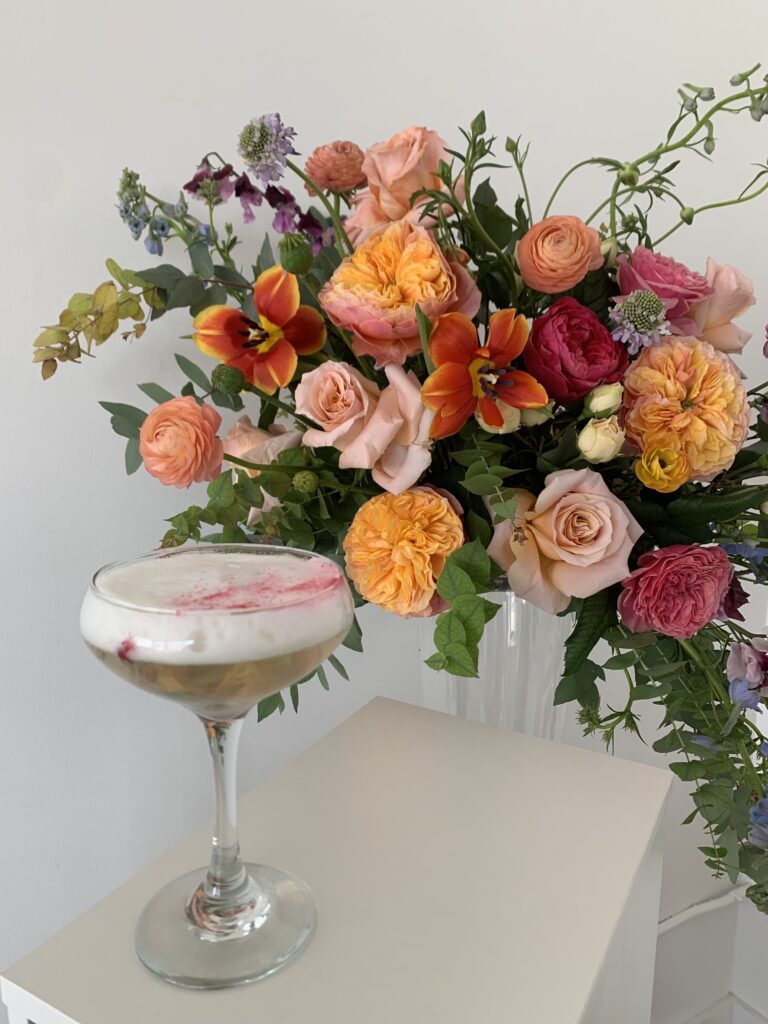 As you can see, a lot goes into a shoot, especially one with so many fragile elements such as flowers, food, and even cocktails. We were so honored to be able to partner with so many amazing companies to be able to successfully complete the Modern Elegance behind the scenes shoot. Keep a lookout for some of the images this summer when they are released!
Don't forget to check out our wedding form to work with our amazing designers!