Books, Blooms, & Lifelong Learning
September 12, 2018
Invest in Chicago. Invest in Chicago Public Library.
Written by Chicago Public Library Foundation
Access to knowledge, information, and experiences that develop skills and build community are central to Chicago Public Library's mission. As the Library's fundraising partner for over 30 years, the Chicago Public Library Foundation is dedicated to providing financial resources that levels-up City of Chicago support. Donations from corporations, foundations, and individuals to the Library Foundation provide the Library with the flexibility to innovate and bring forward cutting-edge services in every neighborhood.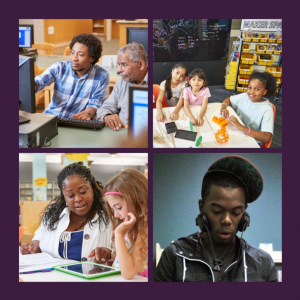 Did you know that CPL has a variety of resources aimed at nurturing learning for all age levels? Early learning spaces throughout neighborhood branches that promote children ages 0-5 learn in the way humans have learned since the beginning of time: through play! Colorful spaces with toys, games, books, age-appropriate activities, story times, and more encourage children to explore the world around them and establish the building blocks for literacy.
For school-aged children, there are accredited Teachers in the Library that are part of CPL's Homework Help program that provides after-school tutoring. Let's not forget the popular and award-winning Summer Learning Challenge. This STEAM-based program (science, technology, engineering, art, and math) keeps kids learning all year long and stems the dreaded "summer slide" or loss of learning that occurs during out of school time ensuring kids return to school with academic gains.
You might have heard of CPL's YOUmedia. These digital media labs exclusively for teens are located in 12 branches throughout the city – and there will be 17 sites by 2020 – are models being replicated across the county for their success in engaging teens. At YOUmedia, teens pursue their passion – be it fashion, film, music, coding, design, and writing – while they build their portfolio, develop a resume, and acquire skills that prepare them for a future career.
There are specific CPL programs that equip adults with skills for new career opportunities in this changing economy. Cybernavigator computer tutors help adults navigate the digital world – from setting-up e-mail accounts, creating a resume, and completing online job applications. There is also the Maker Lab, a tinkering studio for adults. Here, they can learn to use technology like 3D printers, laser, and electronic cutters to turn their creative ideas into reality.
Seeing the positive impact of the library's programs on Chicagoans of all ages energizes our donors who are Dedicated to the Curious. We're excited to join forces with partners like Flowers for Dreams who believe in our vision to cultivate our innate curiosity and bolster lifelong learning for all Chicagoans at their Chicago Public Library.
---
Every September bouquet benefits the Chicago Public Library & the Milwaukee Public Library. Send fresh blooms to your favorite book lover this month to support.