August for the Arts
August 6, 2018
Written by Esther Grimm, Executive Director at 3Arts
When we are asked to illuminate the value of our mission to support and advocate for Chicago's women artists, artists of color, and artists with disabilities in the performing, teaching, and visual arts, we often find ourselves using the language of flower growers—Oxygen, nourishing the field, planting seeds for the future, and even watering, which reflects our work to "make waves" and spread joy in every corner of our city.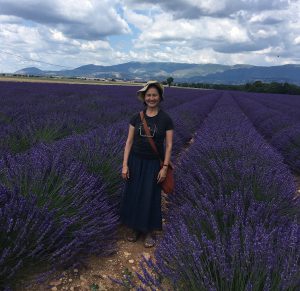 Ayako Kato, 2016 3Arts/Reva and David Logan Foundation Awardee in Dance,
on a lavender farm after her 3Arts Residency Fellowship at the Camargo Foundation in Cassis, France.
A 106-year-old organization, 3Arts has transformed dramatically over the years, from a bricks-and-mortar institution that housed women striving to make inroads in a predominantly male art world—eight years before they had the right to vote—to our contemporary practice of providing career-spanning support for under-resourced artists to raise their visibility and help them build sustainable careers.
Our investment in local artists' enterprises, agency, and wellbeing reflects an equal commitment to bolstering the creative freedom, community spirit, and health of the city in which they work and live.
Our focus on both equity and individuals is designed to upend common systems of power by putting resources directly into the hands of the artists whose work creates formidable ripple effects across Chicago, reaching more than 10,000 community members annually.
Our flagship program is the annual 3Arts Awards, through which ten Chicago-area artists receive unrestricted grants of $25,000. With a belief that a one-time cash grant is a great start, but not necessarily transformative over the long haul, 3Arts Award recipients are eligible for an array of other support streams over time, including Fellowships that offer month-long residencies in an international network of artist communities, from France to Florida, with stipends and airfare; Fellowships in partnership with the University of Illinois at Chicago specifically for artists with disabilities to create new work and build audiences; support for the creation of new art through a crowdfunding platform called 3AP (3Arts Projects), in which 3Arts pays for 1/3 of 20 new projects each year and produces the artists' campaign videos; and professional development workshops and coaching that encompass financial management, fundraising, and accessibility.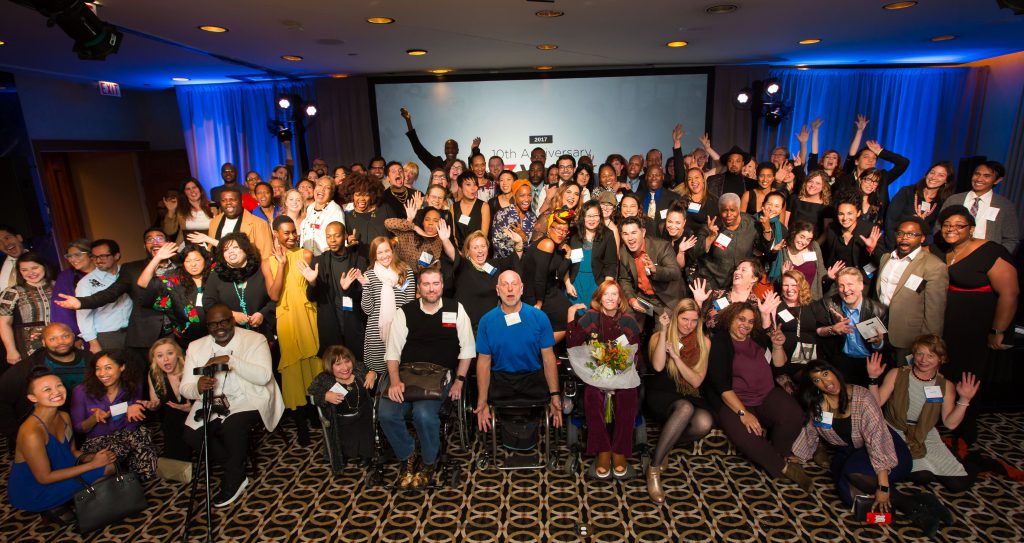 In 2017, during our 10th anniversary celebration, we launched the first-ever artist-to-artist giving program, called Make a Wave, in which 83 of our past award recipients selected one artist each to receive surprise $1,000 grants, sending a wave of acknowledgment and support through Chicago's creative core. We recently announced that we are embedding that groundbreaking initiative into every year of programming, so that each new cohort of ten $25,000 awardees will have the opportunity to select ten Make a Wave artists and help more artists grow and breathe, while nourishing our community.
Every bouquet during the month of August supports 3Arts in Chicago and Marcus Center for the Performing Arts in Milwaukee